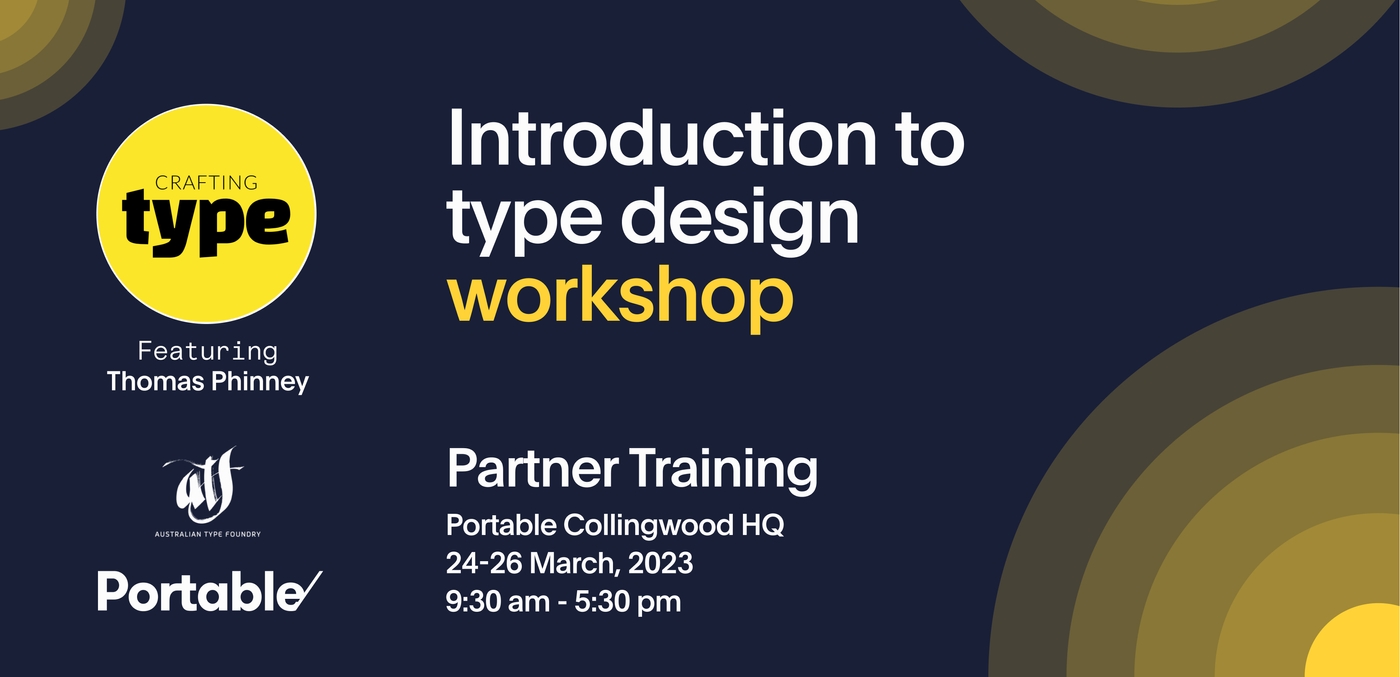 A Portable partner-hosted event
Portable is committed to supporting the growth and capability building of those in our local community — which is exactly why we've partnered with Thomas Phinney and Wayne Thompson to bring the world-renowned Crafting Type workshop series to Australia for the very first time!
Hosted out of Portable's Melbourne office, Crafting Type is an intense 3–day workshop where absolute beginners learn how to design typefaces and intermediate type designers boost their skills. Run around the world at cities large and small to bring you a solid start in type design.
You may not be considering a career as a type designer or you could have an established career as a web designer, graphic designer, artist, architect, illustrator, or simply just be interested in learning some new skills! Crafting Type often sees repeat customers, who travel in from another city to attend the same workshop a second time, with no intention of becoming a professional type designer.
Keen to learn type design? Secure your ticket today to avoid missing out on this once-in-a-lifetime opportunity!
Why register for the workshop?
Learning type design is a great way to deepen your understanding of typography. Zooming in to this level is still rare, and being able to drill down with clients and other designers sets you apart.
Type can seem like a dark art, hidden in mystery. But the Crafting Type team have developed a learning experience that reliably evaporates the sense that typography and type design is impenetrable.
Thomas Phinney and Wayne Thompson will reveal the secrets, and you will leave the workshop with confidence in choosing and using type. You will know how to analyse the suitability of a font family for any given typographic task, because you will be able to craft your own type.
The Crafting Type team of professional type designers has an approach to teaching that is hands–on, encouraging, interactive—and fun!
Some of the things you'll gain from the session include:
New typography skills
New tools for drawing type
The first key letters of your own type design
And many fond memories!
We're excited to announce that Paul D. Hunt, an acclaimed type designer who has been with Adobe since 2009, will be joining us on Saturday afternoon for a critiques and feedback session.
Besides working on many retail typefaces, Paul designed the popular open-source Source Sans and Source Code. Source Sans Pro has been around since 2012, and is currently the 7th most popular type family of the 1493 families available on Google Fonts!
Session details
What: A 3-day workshop series covering the creation of typeface, fonts, and more.
When: Friday March 24 - Sunday March 26 from 9:30am to 5:30pm daily.
Where: Portable's Melbourne office at 5 Easey Street, Collingwood.
Price: From $430 for the complete 3-day training.
Agenda: Outlined Here
Registration: Crafting Type
Event reminder
This is a partner-hosted event. Portable are providing space in our Collingwood office as a means of supporting the good work being done by the Crafting Type team but we are not managing the registrations, payments, training, or any other area of the workshops.
We recommend getting in touch with the Crafting Type team if you have any questions about this course.