Orygen works to create a new, more positive approach to the prevention and treatment of mental disorders and has developed new models of care for young people. In 2017, Orygen and Portable together embarked on an investigation into the needs of young people when they talk about the topic of suicide online.
It's a world-first initiative that involves the creation of guidelines to help young people have safer online conversations about suicide, depression and mental health. The problem we're tackling, at its core, is that young people, the Government and community organisations in Australia are not sufficiently equipped to address the topic of youth suicide in a social media world.
Portable worked with Orygen to apply for a Federal Government grant to conduct a research project, in collaboration with the University of Melbourne and Facebook Australia.
The research investigated how we could work with young people to co-design ways of distributing Orygen's new #chatsafe guidelines and getting young people to engage with them. This meant diving deep into understanding the process of how young people talk about the topics of suicide and mental health online, and it built on work Orygen had done in the past to help guide how the media writes and talks about these topics.
Portable assisted in conducting workshops in order to find out about the help-seeking experiences of young people, gaining the perspectives of both sides of the adult-professional/young person divide, including subject matter experts and young people around Australia, including specific groups comprising young LGBTQIA+ people, people of colour and people from culturally and linguistically diverse backgrounds.
We examined the existing and predicted future of the social media landscape, a review of existing literature on the subject and a comparative analysis of existing campaigns, toolkits and guidelines.
Together with young people, we co-designed possible solutions for what an online space to host the guidelines might look like, what kind of tools could help, and how best to approach a national campaign to disseminate the guidelines.
With the #chatsafe guidelines developed, the job was far from over.
We also needed to give #chatsafe an effective brand strategy and identity so that the word could be spread about the guidelines to young people, people who support young people, the suicide prevention sector, and to social media platforms. This would help Orygen in its goals to raise public awareness that there are safe ways to communicate about suicide on social media.
Portable began by determining the brand's tonal sweet spot. This strategic branding decision would determine everything from colour palette to logo to visuals and how the brand speaks. The #chatsafe brand needed to be somewhere between "fun" and "clinical". It would be: friendly, approachable, trustworthy and knowledgeable.
The colour palette was designed to be friendly, approachable and balanced. Finding a mid-point between fun and serious, the #chatsafe brand uses four contrasting but fairly muted colours. It was important that the colours have high WCAG compliance.
The typography needed to strike the balance between edgy and classic, and Courier Sans and Monosten were chosen to show a human, friendly and youthful look and feel. A custom illustration style was developed to hit the tonal sweet spot, not too playful and energetic, and not too rigid and serious.
For the logo, we developed four options to discuss and select from. We determined they should be simple graphic shapes with good legibility, high contrast and low complexity. Working with Orygen's in-house team to support its ongoing communications plan, we developed social media assets and provided digital communications guidance, which we continue to do.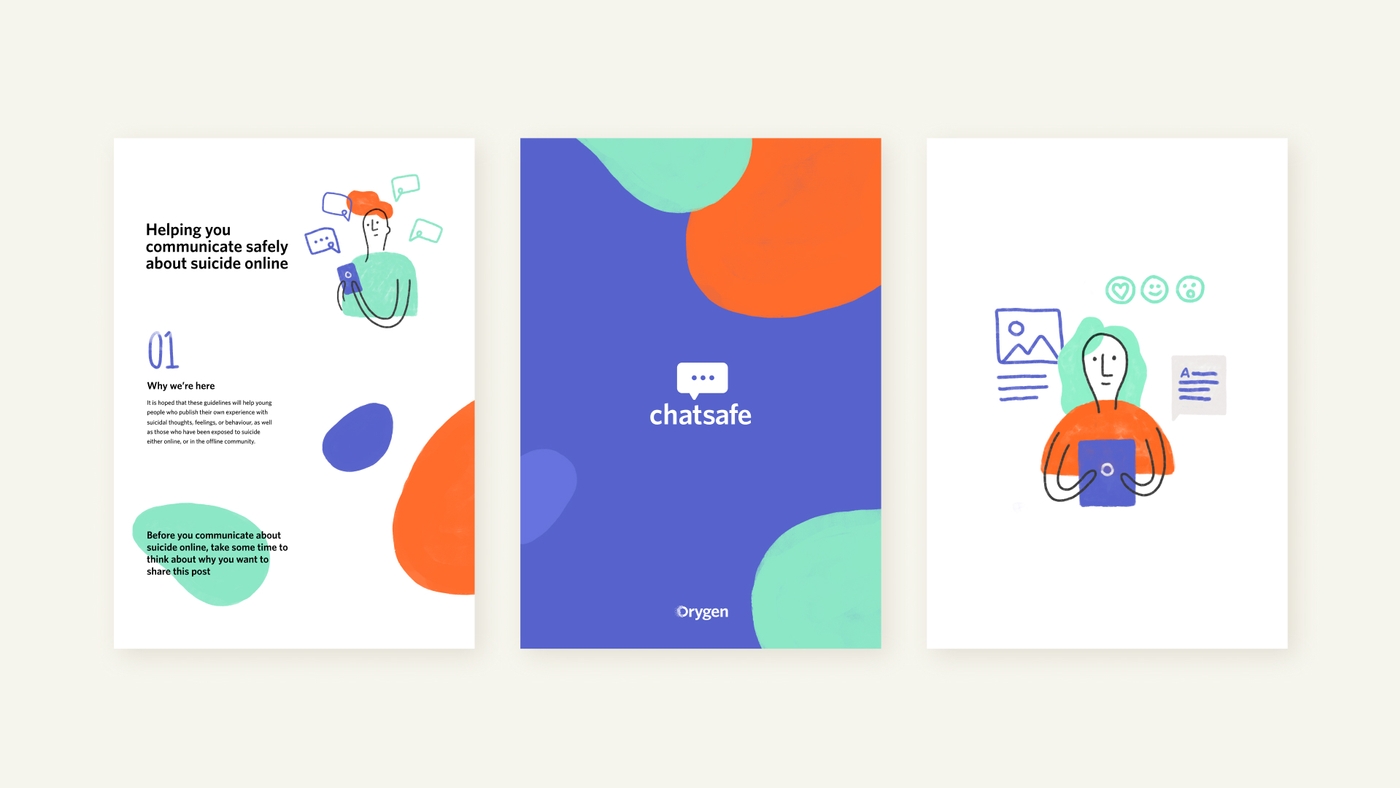 Outcomes
User needs
Analysis of our research identified key user needs to be addressed throughout the project, including that young people need more than just a static resource for help-seeking, they need places to go to feel heard and safe to express themselves, and that they need to see relatable messages of positivity and success. 
Personas
Three user personas were generated to assist in associating solutions with user needs. Importantly, these personas were de-personalised — they didn't include names or photographs — to avoid potential triggers for the participants of our co-design workshops. And using accumulated knowledge, five user journeys were mapped to identify decision points, illustrating where opportunities for intervention existed.
Recommendations
We put forward key recommendations for the design phase, including ideas on the potential solution for best distributing the ChatSafe guidelines and how to get young people to engage with them, such as chatbots and live social media interventions to create and deliver the message of continual help-seeking. We also provided recommendations on how to best create safe and engaging online resources that provide information based on user motives, as well as methods for tracking success.
Brand identity
The identity of #chatsafe came to life with a friendly, approachable, trustworthy and knowledgeable tone. Its WCAG AA-AAA colour palette is friendly, approachable and balanced. Its typography is human, friendly and youthful. It has a custom illustration style that is balanced, relaxed and approachable. The logo is a simple graphic shape with good legibility, high contrast and low complexity.
Social media campaign
Portable also developed social media assets for the ongoing campaign, provided digital communications guidance for reaching key audiences of young people, and facilitated a co-design workshop with young people to come up with ideas for what an online video campaign might look like. Just like how journalists and publishers have contributed to harm-reduction in adopting a standard for covering suicide in the news, #chatsafe works towards making the internet a forum for more humane and less destructive dialogue, to protect vulnerable young people.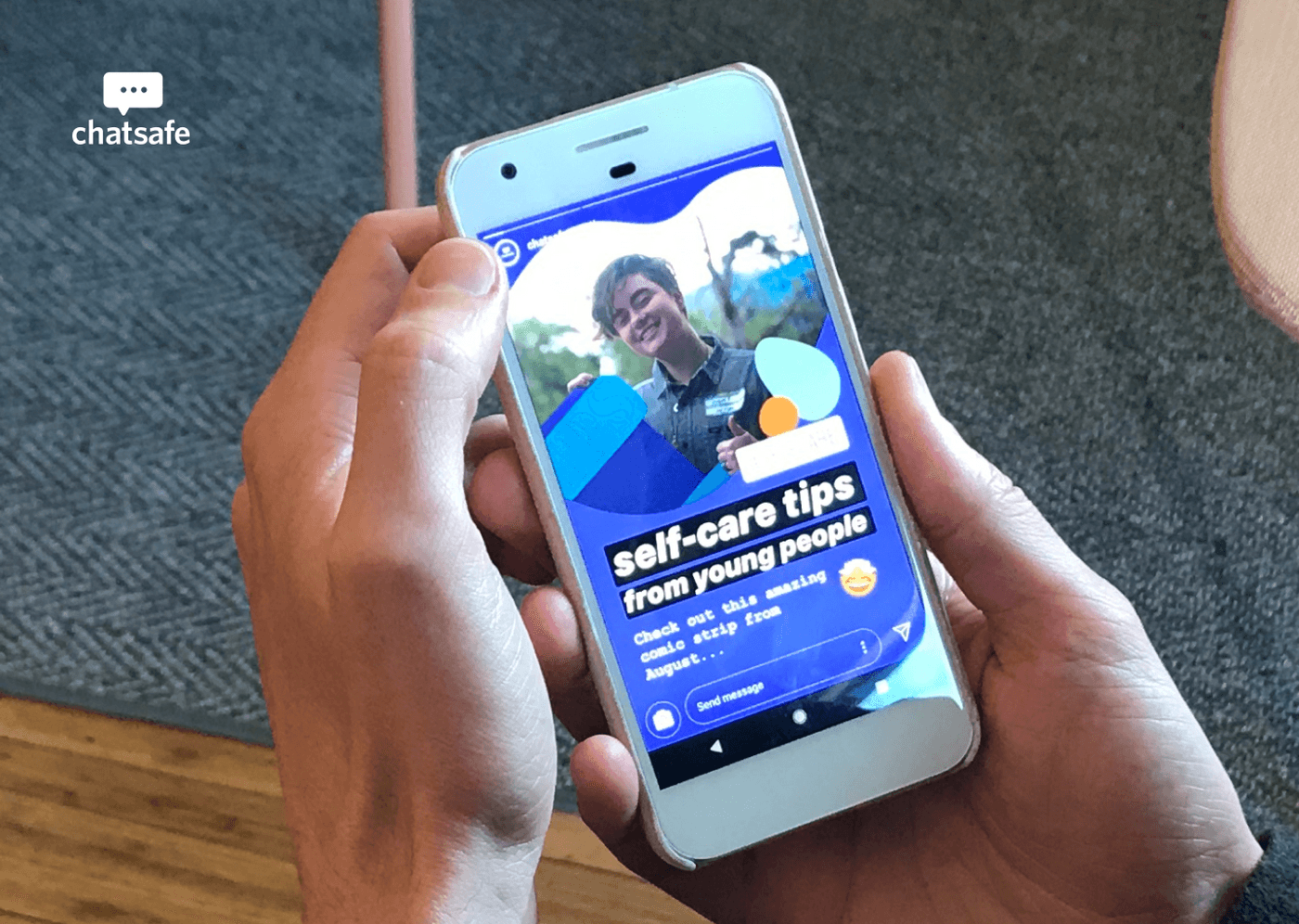 Awards
Our work bringing the #chatsafe guidelines to life has since been awarded silver at the 2020 Melbourne Design Awards.
DrivenxDesign have awarded our work on the #chatsafe brand and campaign silver in the category of 'Graphic Design - Identity and Branding - Health' which recognises "creative and innovative design in the traditional or digital visual representation of ideas and messages. Consideration given to clarity of communication and the matching information style to audience."
The success of this project has been made possible through our long-running partnership with Orygen, specifically from Associate Professor, Jo Robinson, the Orygen Suicide Prevention team and the Orygen Communications team.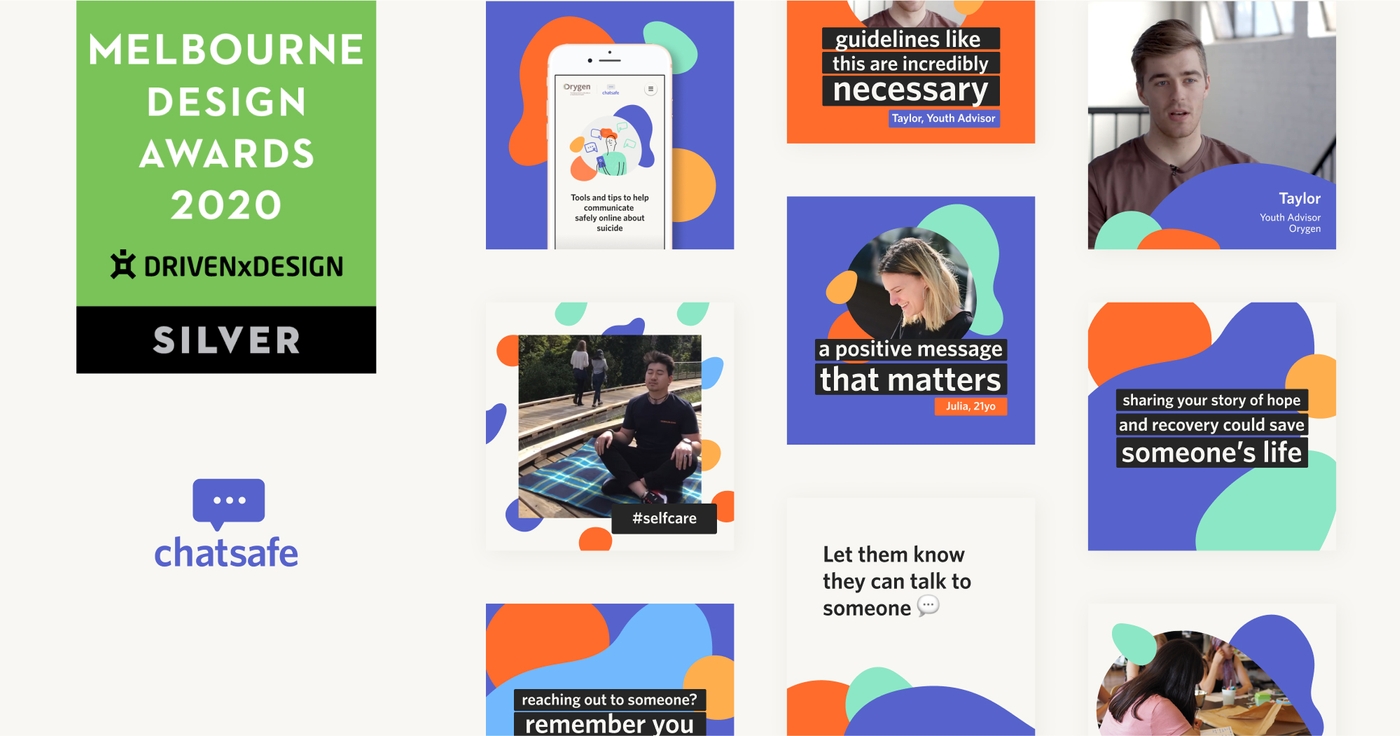 Download our free report on not-for-profit innovation