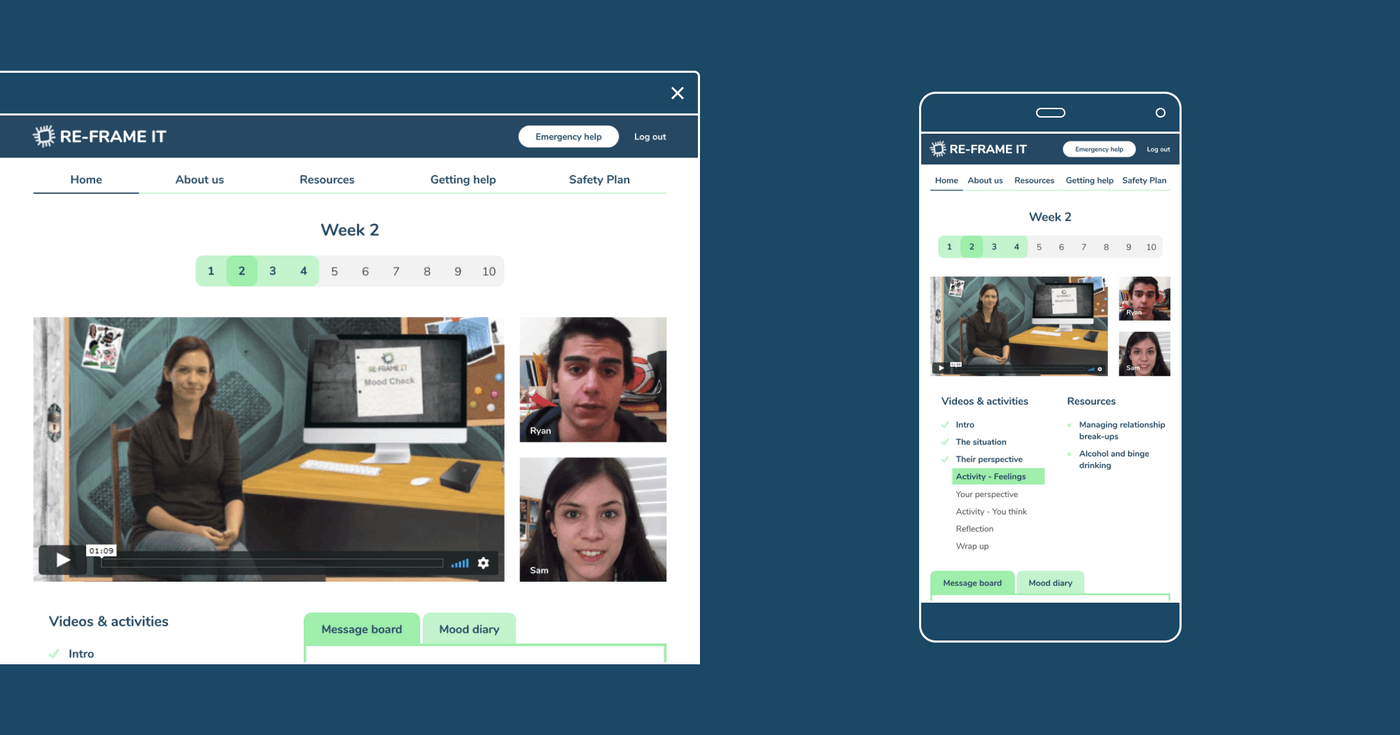 Portable worked with Orygen, to define, design and develop the RE-FRAME IT platform, a web application to test cognitive behavioural change with school-aged young people who are at risk of suicide. 
Orygen works to create a new, more positive approach to the prevention and treatment of mental health issues. Portable are also working with Orygen on the #chatsafe project.
RE-FRAME IT uses interactive, cognitive behavioural therapy exercises. It is part of a research project by Orygen to test the effectiveness of an internet-based CBT program in reducing suicide-related behaviours, depression, anxiety, hopelessness and improving cognitive and behavioural skills in school students with suicide-related behaviours.
As a for-purpose, accredited B-Corp with a history of working on projects in the mental health sector, and on suicide prevention initiatives, we welcomed the opportunity to be able to bring our knowledge of the sector and skills in digital development and design to this project. 
Originally developed some years ago, Orygen's RE-FRAME IT platform was not functional and required a rebuild. Portable was engaged by Orygen to do scoping work and propose an approach to deliver this platform using as much of the existing video assets as useful within the time constraint. 
Orygen wanted RE-FRAME IT to be reimagined as a mobile and UX friendly product that uses modern web technologies.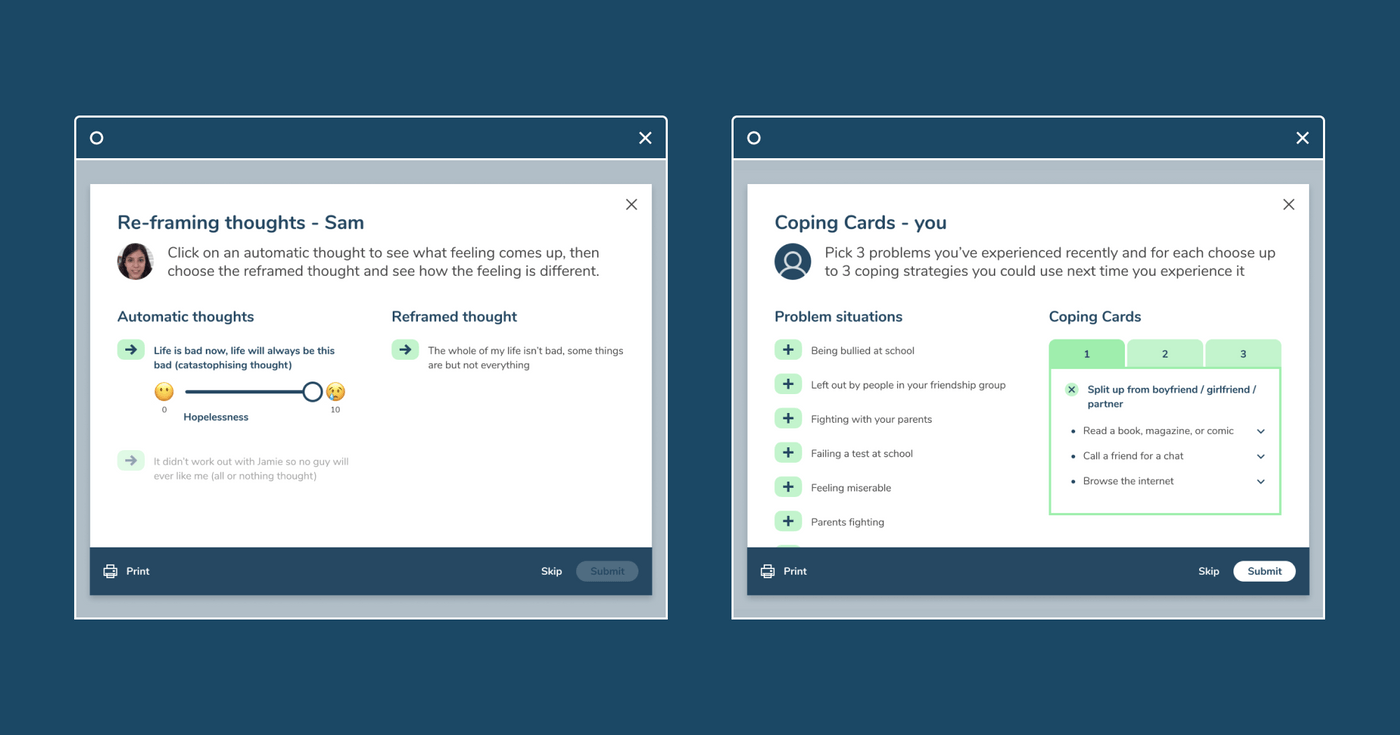 How we approached the project:
Working closely in a cross-functional team including a UX/UI designer, developer and producer, Portable team members immersed themselves in the existing tool to understand the content, activities, requirements and opportunities. 
Previous user testing had been done with students on the platform, and Portable aimed to incorporate as much of the feedback from the testing as possible into the rebuild.
We worked closely with the Orygen research team to understand how the program would be rolled out in schools, as well as their needs for data collection.
Once we had a clear idea of the current, as well as future needs, for the tool we evaluated various technical platform options, from in-house solutions to cloud providers that would be needed for a future-ready RE-FRAME IT. This final solution would need to encompass APIs, user authentication and email notifications. This research fed into the overall technical architecture of the rebuild.
For our primary end-users, young people who will use the platform, our goal was to design and develop a modern and user-friendly tool that would allow them to go through a set of activities each week with their mental health professional. 
For our secondary end-users, researchers, mental health professionals and administrators using the platform, we wanted to make the tool easier to maintain.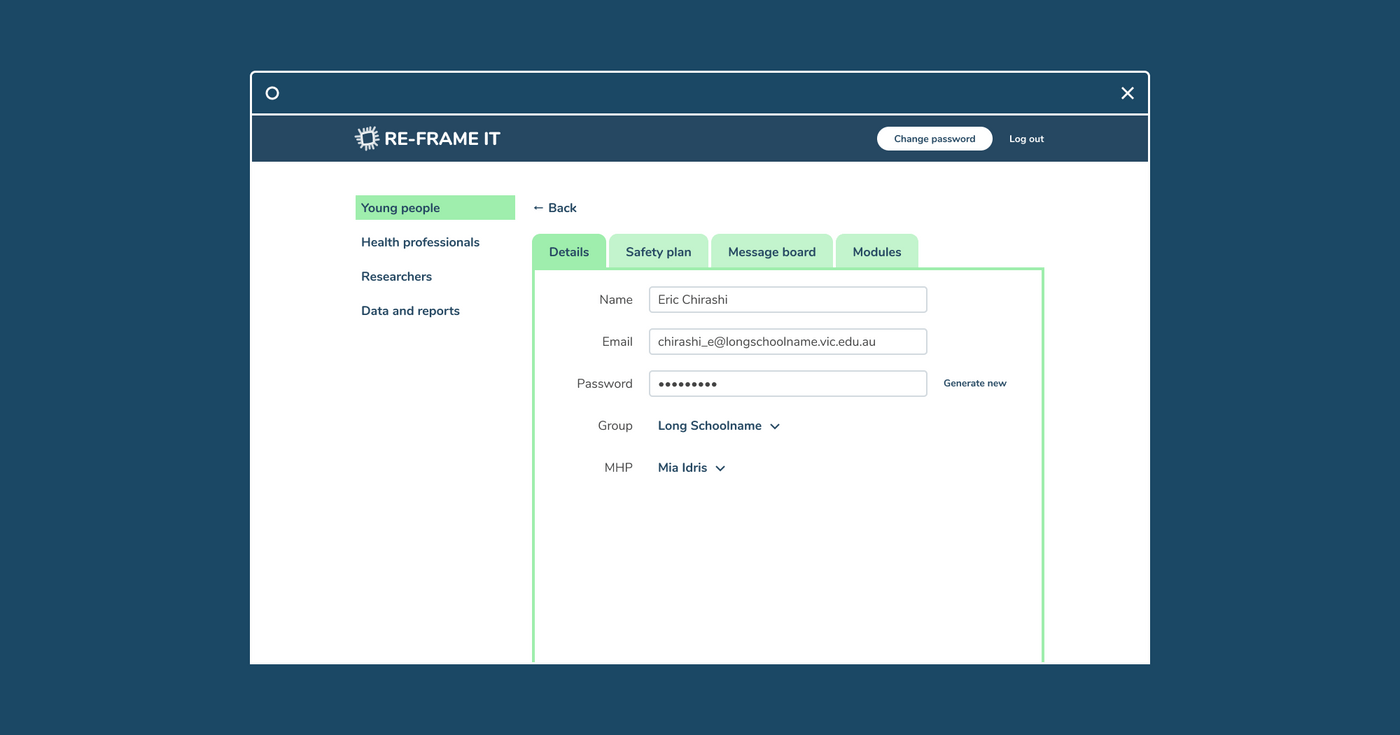 New features on the Reframe It platform included:
A responsive front end meaning that young people and health. professionals  alike could use the platform on mobile devices
Custom analytics tools to measure young people's engagement with the app.
Bespoke admin dashboard serving health professionals and researchers alike.
A re-imagined visual and interaction design for young people to engage with when completing activities in the app.
Our development team then set about rebuilding RE-FRAME IT to meet these identified user needs on Amazon Web Services cloud infrastructure. The new RE-FRAME IT would utilize AWS' on-demand cloud services including Lambda and DynamoDB to ensure the application is scalable.
For the front end, we created a custom component library and plug and play architecture for the learning modules, future-proofing the web application for the number or nature of learning modules changing.
Outcomes:
We redesigned and redeveloped the web application to meet these identified user needs.
The web application is being trialled by Orygen in schools and clinical settings in Victoria and South Australia. After an evaluation of the trial phase, it is intended that this platform will be improved and scaled up to schools across the country, and internationally.