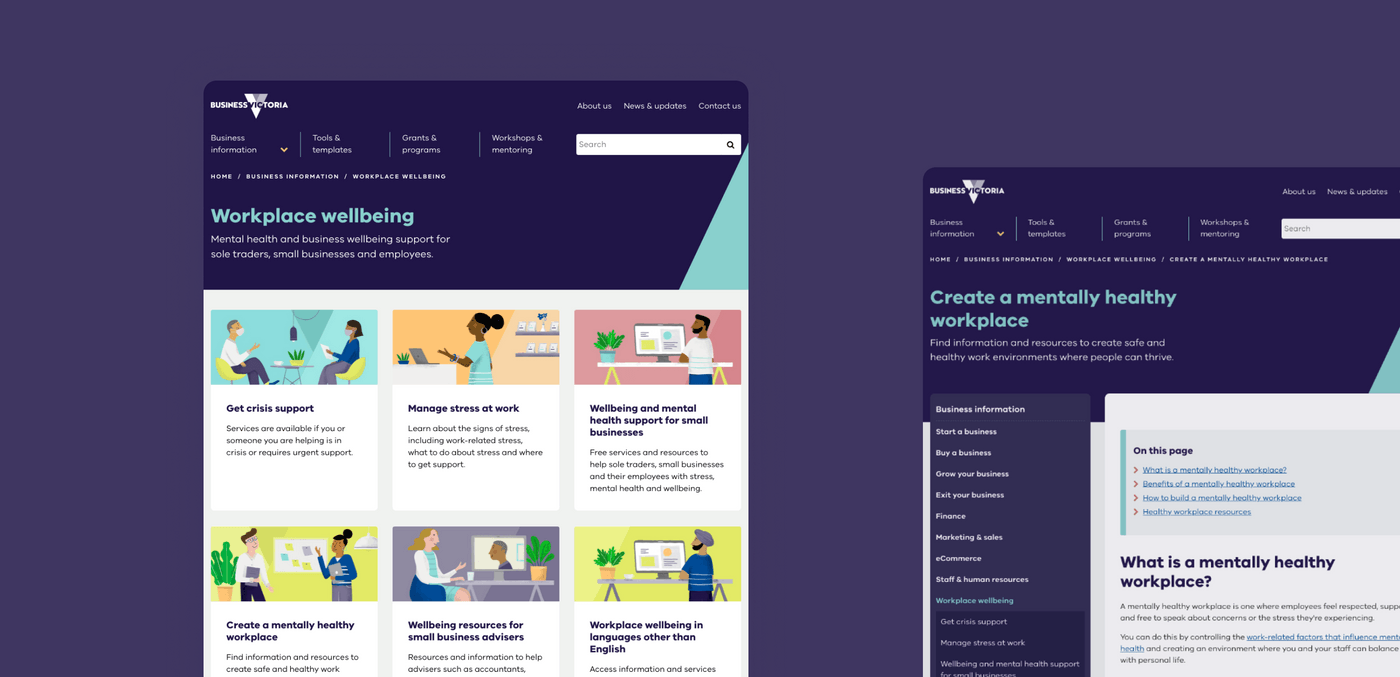 When Small Business Victoria was in the process of rolling out mental health and wellbeing programs to support small business owners across the state, it asked Portable to help. They wanted to consolidate the current offering of information on the Business Victoria website and create a hub that could support business owners to improve the mental health literacy of their workplaces. 
The hub would link together existing information, grants, tools and events about mental health, and guide people to government-funded services and trusted third-party providers. Portable was asked to conduct an audit of the content and user experience of mental health information currently on the website, design a prototype of the hub, and test it with small business owners. 
Design Challenge
To align with its new campaign to promote mental health and wellbeing for small business owners, the hub needed to promote services being offered by the Victorian Government as well as provide information (and link to credible third party organisations where necessary). It also needed to complement and cross-promote relevant initiatives that exist in other sections of the site, such as templates, grants and events. Importantly, we were working on a deadline: anything we designed or recommended needed to be feasible for the Business Victoria team to implement within a month, without technical developers.
Approach
Content and UX audit
We began by conducting a content and UX audit of mental health and wellbeing web pages on the Business Victoria site. We reviewed the content against the Readability Guidelines, flagging quick fixes and looking for opportunities to improve the structure, use plainer language, refine headings and implement best practice content design. We also reviewed several pages and user flows against heuristics such as Jakob Nielsen's 10 general principles for interaction design and our design principles for mental health. We flagged opportunities to enhance usability, improve accessibility and implement best practice principles for user experience and interface design with a particular focus on how best to display content related to mental health and wellbeing. 
Prototype design
One of our priorities was to determine the best place for the hub to live in the site's existing information architecture. This involved establishing the hub's landing page as a level 2 page within the section of the site that houses information. With its home determined, we designed two separate prototypes for the new hub. A version that could be feasibly implemented by content officers without any technical support, as well as a version with ideas that could be powerful but would need code changes. Our designs incorporated the recommendations from our content and user experience audits, while adhering to Business Victoria's brand guidelines and the website's existing look, feel and structural patterns.
Usability testing
We tested the prototype with a variety of small business owners. We were specifically looking to test the usability and desirability of the new content and design, so we ran each individual through a series of activities that tested how easily they could find specific information in our prototype, that prompted their thoughts on the types of content presented, and that  interrogated the language used in the designs. We synthesised our findings from testing and used the insights to further refine the prototype. 
UX roadmap and implementation plan
With the insights gained from the audit, prototyping and user testing, we created a UX roadmap and implementation plan to show Small Business Victoria how features could be rolled out to establish the new mental health hub. The roadmap included content and interface features, as well as suggestions for future research or testing, and gave an idea of how much effort would be required to implement each.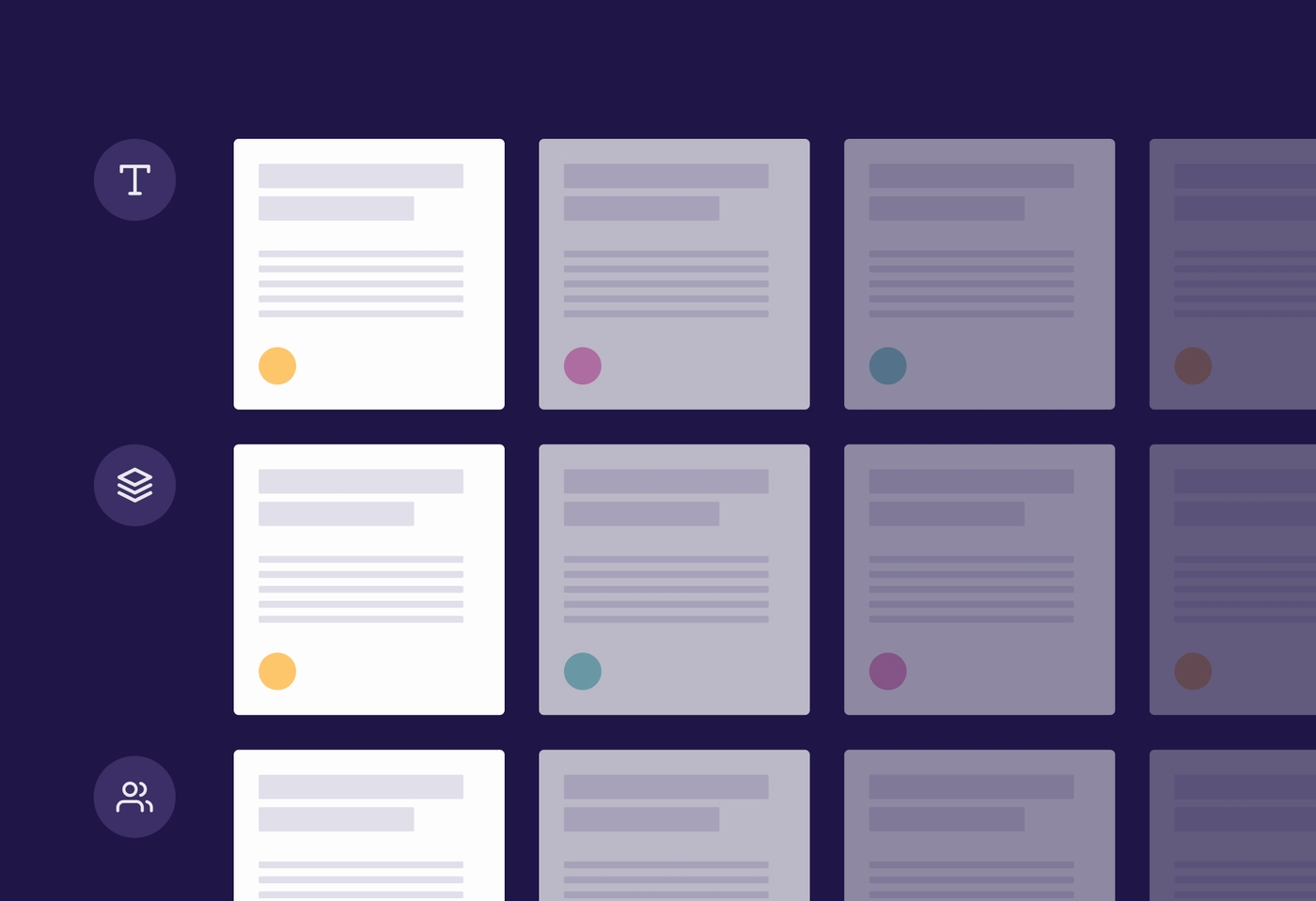 Outcomes
The outcome of this project was a clear path forward for Small Business Victoria's new mental health hub, so that it can provide information and services essential to workplace wellbeing and continue doing what it does best: supporting small business owners in Victoria to thrive.
The refreshed mental health hub with our recommendations and updates implemented is now live.
Reflections
Kristina Basile, Program Manager, Business Resiliency and Recovery, Small Business Victoria
"It was a pleasure working with Portable on the delivery of this project. They were easy to work with and very accommodating of our requests. The recommendations they provided following their review have been very useful. Portable helped us design a solution that supports small businesses to navigate to the mental health and wellbeing information and resources needed".
Peter Roper, Senior Content Strategist, Portable
"Mental health is a super important topic and Small Business Victoria continually does great work. We relished the chance to help the team there start the process of establishing a place that could provide useful information and link them to support services that can change their life."  
Project team
Lauren Manning, Senior Producer
Peter Roper, Senior Content Strategist
Jackie Garfield, Senior Experience Designer
Ashlee West, Lead Experience Designer
Naomi Wilson, Senior Client Partner
Chris D'Aloisio, Head of Technology