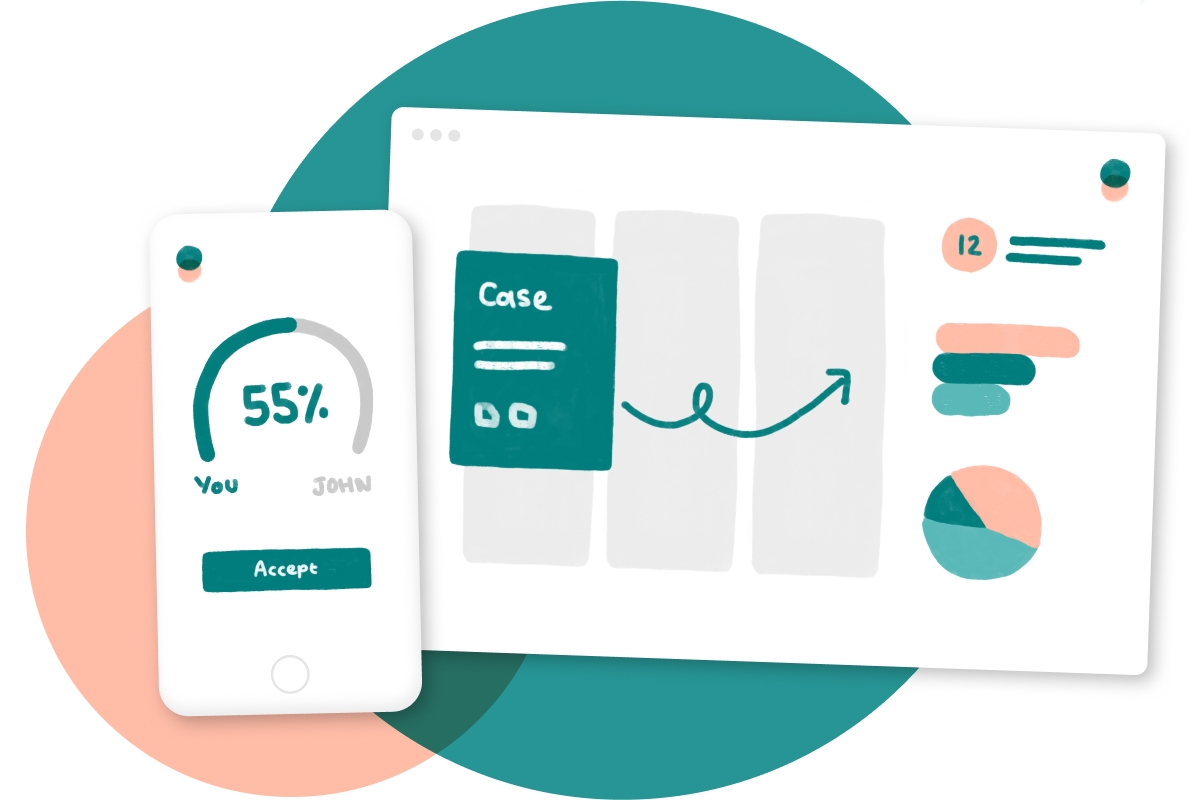 How can we make the process of resolving disputes more efficient?
Online dispute resolution represents a major opportunity. It provides an extra step at which parties can try to reach an agreement between themselves and, by doing so, is helping jurisdictions around the world prevent more matters reaching court.
Portable is passionate about improving people's experience of justice, and our online dispute resolution technology, dubbed Settle (settletech.com.au), sits among our broader work to innovate in this space — such as our YourCase technology being piloted for applicants of family violence intervention orders, and our Courtsight ticketing and wayfinding solution implemented in Shepparton Law Courts — to transform the before, during and after-court experience for people.
The power of our online dispute resolution technology is already being seen
through projects with several different jurisdictions, including family law, work disputes, and small claims tribunals such as VCAT.
The first generation of online dispute resolution tools were simplistic and based on the needs of the organisation rather than the people using them. Hence, adoption and measurable gains in efficiency have been disappointing.
In keeping with Portable's human-centred focus and its core 'keep on making' value and its extensive experience with court systems and policy issues, the team decided to explore this gap in its own way.
Through the internal design and development process, as well as projects to customise solutions for several different clients, Portable has pioneered one of the first products in a new generation of online dispute resolution systems.
Since 2016, Portable has been on a journey to build an artificial intelligence (AI) model that could power the next generation of online dispute resolution to address the major challenges faced by courts and tribunals. Internationally, several organisations have attempted to digitise dispute resolution. Many have failed, and the industry is still looking for a solution.
Approach
Our technology leverages our own AI model to help make decisions that can replicate the role of judge or a mediator.
Settle works by crunching published public case data to come up with recommendations based on precedent. This intervention is a significant step towards keeping more cases out of court and reducing the burden on the system. The AI brains are wrapped in a product based on human-centred design principles, prioritising the experience of the end user — but Settle provides significant benefits for the admin side of case management, too.
Settle gives tools and education to users to give people the power to make decisions and help prevent them from needing the relevant court or tribunal.
Users are guided, step-by-step, through the data-input process specific to their matter, with UI workflows that help users structure their claims and arguments into something clear and actionable.
By using learnings from a vast amount of published public case data, our AI model draws on precedents and can predict, suggest or decide on the outcome of matters.
Our online dispute resolution tool allows users to resolve disputes quickly and effectively online. We have deliberately focused on users' experiences, rather than a specific type of dispute, piece of legislation, or existing technology. This helps ensure the tool can be easily adapted to different contexts and disputes, including workplace, tenancy and property.
For registry officers and other staff of courts and tribunals, Settle provides a simple yet powerful case management platform. Cases are visualised on a Kanban board to show the pipeline at a glance, and cases can be filtered and ordered based on priority or which staff members are involved. Registrars can now more effectively process and triage claims, to better help clients and support their team.
Outcomes
Portable has:
generated an AI model that can predict case outcomes and is adaptable for different organisations and jurisdictions
explored and produced best-practice user experience for people moving through online disputes, that pulls the user along in an interactive way, step by step
created a series of tools that assist in the negotiation process to assist applicants and respondents in an online dispute, helping to strengthen their case, negotiate and reach an outcome
designed and developed a simple yet powerful admin dashboard for registrars to visualise and manage cases more efficiently
Download our free report on legal innovation